Modern abstract paintings / flowers, landscapes, seascapes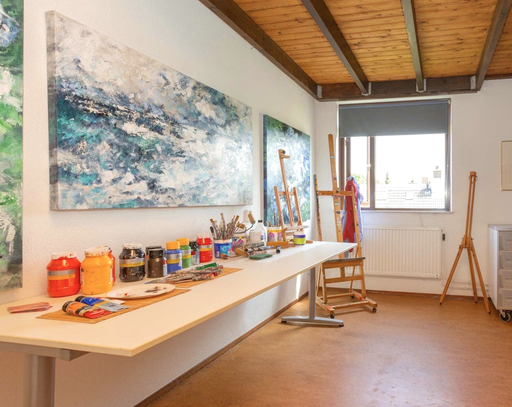 English
The work of Joke Vingerhoed consists of several series, of which the floral paintings. They are the most colourful and expressive abstracted works with a recognizable touch.
The wide, sometimes almost figurative landscapes and seascapes look a bit calmer.
She intuitively depicts a story, a thought or just a feeling in her abstract paintings.
Finally, a series of geometric paintings, which she made in response to her fascination for 'De Stijl', an art movement of Dutch origin.
Inspired by the seasons, and working from emotion, the composition is created, layer upon layer, directly on the canvas. There is no preconceived plan. Joke works mainly with palette knives and her hands. Throughout the whole process she wants to feel, constantly search for balance but above all she gives shape to what touches her.
From 1987 until today several modern art galleries exhibited successful her paintings in the Netherlands, Belgium, Germany and Italy.
Follow me on Singulart
---
Deutch
Das Werk von Joke Vingerhoed besteht aus mehreren Serien, von denen die Blumen die farbenprächtigsten und ausdrucksstärksten sind. Es sind abstrakte Werke mit einem erkennbaren Touch.
Die weiten, manchmal fast figurativen Landschaften und Meereslandschaften wirken etwas ruhiger an die Wand.
In ihren abstrakten Gemälden stellt sie intuitiv eine Geschichte, einen Gedanken oder einfach nur ein Gefühl dar.
Schließlich eine Reihe von geometrischen Gemälden, die sie als Antwort auf ihre Faszination für "De Stijl", eine Kunstrichtung niederländischen Ursprungs, schuf.
Inspiriert von den Jahreszeiten und von Emotionen ausgehend, entsteht die Komposition Schicht um Schicht direkt auf der Leinwand. Es gibt keinen vorgefassten Plan. Joke arbeitet hauptsächlich mit Palettenmessern und ihren Händen. Während des gesamten Prozesses will sie fühlen, ständig nach Gleichgewicht suchen, Grenzen verschieben, aber vor allem dem Gestalt geben, was sie berührt.
Von 1987 bis jetzt waren mehrere erfolgreiche Ausstellungen von ihre Gemälde in Galerien für zeitgenössische Kunst in Deutschland, Belgien, Italien und die Niederlande.
Alle Gemälde sind fertig zum Aufhängen!
Die Seiten der Leinwand sind entlang gemalt, so dass ein zusätzlicher Rahmen nicht notwendig ist.
Sie können mich folgen auf Singulart
---
Français
L'œuvre de Joke Vingerhoed se compose de plusieurs séries, dont les peintures de fleurs. ces sont les œuvres abstraites les plus colorées et les plus expressives, avec une touche reconnaissable.
Les vastes paysages et marines, parfois presque figuratifs, semblent un peu plus calmes.
Dans ses peintures abstraites, elle dépeint intuitivement une histoire, une pensée ou simplement un sentiment.
Enfin une série de peintures géométriques, qu'elle a réalisées en réponse à sa fascination pour "De Stijl", un mouvement artistique d'origine néerlandaise.
Inspirée par les saisons, et travaillant à partir de l'émotion, la composition est créée, couche après couche, directement sur la toile. Il n'y a pas de plan préconçu. Joke travaille principalement avec des couteaux à palette et ses mains. Tout au long du processus, elle veut ressentir, rechercher constamment l'équilibre mais surtout elle donne forme à ce qui la touche.
De 1987 à aujourd'hui, plusieurs galeries d'art moderne ont des expositions réussies de ses peintures aus Pays-Bas, en Belgique, en Allemagne et en Italie.
Ventes par Singulart Paris